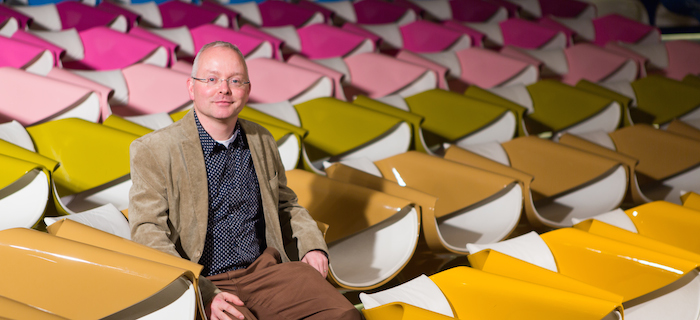 18 Jan

Heck group in European programme to make large-scale protein analysis clinically applicable

Within five years, the first hospitals should be able to completely analyse all of the proteins in a patient's blood and urine in order to provide more individualised treatment. That is the ambition of the researchers at Utrecht University and their four European partners. The researchers have received a 3.7 million Euro grant for their MSmed research proposal as part of the Future and Emerging Technologies programme within the Horizon 2020 project. On 14 and 15 January, MSmed officially kicked off its activities at an event in Copenhagen.

"Our goal with MSmed is to make large-scale protein analysis faster, cheaper and more complete by a factor of five. If we are successful, then protein analysis can be used at a grand scale in clinical applications", according to Albert Heck, Professor at Utrecht University and Scientific Director of Proteins at Work. Utrecht University Endowed Professor Alexander Makarov is also involved in the MSmed research programme. Makarov is Director of Global Research for Life Sciences at Thermo Fisher Scientific. The programme coordinator is Prof. Matthias Mann, who holds an honorary doctorate from Utrecht University.
Early and specific diagnosis
The function and interaction of the millions of proteins in our cells determine how we function and feel. Changes to these interactions in our protein metabolism can result in illness, so information about our personal proteome can contribute to early and extremely specific diagnosis and therapies custom-tailored to the individual.
Cooperation by European pioneers
The MSmed programme combines the efforts of five European pioneers in the field of proteomics. The coordinator is Prof. Matthias Mann from the Max Planck Institute for Biochemistry in Martinsried. He and Prof. Jesper Olsen hold appointments at the University of Copenhagen, where they already frequently work together with the doctors from the hospital next door. Prof. Jürgen Cox of the Max Planck Institute for Biochemistry in Martinsried is a specialist in bioinformatics. His expertise is needed to process the millions of measurement data collected. Professors Alexander Makarov and Albert Heck lead the way in the development of new instruments and technologies for faster and more complete analyses.
Proteins at work
The participation in the MSmed research programme is a good fit with Proteins At Work, a national partnership led by Albert Heck that was founded in 2014 to make proteomics accessible to non-specialists who wish to conduct biomedical research. Proteins At Work is funded in part by a grant of 13.5 million Euros from the National Road Map for Large-scale Research Facilities, an initiative by research financier NWO. For more information, see: http://www.netherlandsproteomicscentre.nl/paw